In general, we have chosen to follow the Kodokan system of judo. However, we have also chosen to focus our studies on the more technical, traditional, and self-defense aspects of the art, rather than on competition. We do include various forms of randori or "free practice" in our classes, which allow students to test and hone their skills, but we are not concerned with aquiring points or winning trophies.
So while our students are certainly free and welcome to participate in tournaments if they wish, we do not require it for any rank advancement.
Additionally, we consider not just the skills and abilities of our students, but also the contributions of strong judo leaders and teachers when awarding rank.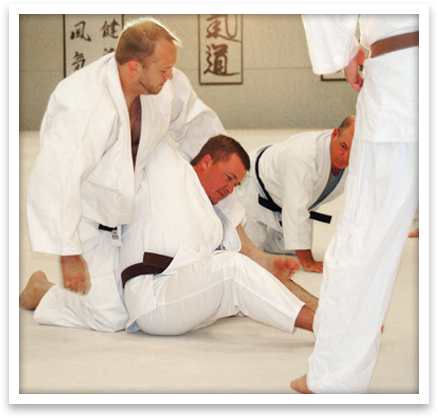 The following represents the average requirements in terms of hours, years, and techniques. All criteria for promotion remain at the discretion of the grading sensei and are subject to change. With respect to Gokyu no waza requirements, students should concentrate on ashi waza, koshi waza, and te waza for their requirements. Study of sutemi waza should be of secondary importance and its practice will be limited.
RANK
BELT
TOTAL HOURS
MINIMUM AGE
TIME IN GRADE
TOTAL TIME

Green
Brown
Brown
Brown/Black
Black
Black
Black
Black
Black
Red & White
40
90
175
260
435
735
1,185
1,635
2,235
3,000
3 months
4 months
7 months
7 months
1.5 years
2 years
3 years
3.5 years
4 years
5.5 years
3 months
9 months
14 months
1.5 years
3 years
5 years
8 years
12 years
16 years
20 years
Yonkyu
Sankyu
Nikyu
Ikkyu
Shodan
Nidan
Sandan
Yondan
Godan
Rokudan
14
14
14
14
16
18
20
22
25
29
Yonkyu — Basic ukemi (falling) | Gokyo no Waza: 1st kyo | 2 holds & escapes
Sankyu — Advanced ukemi (falling) | Gokyo no Waza: 3 throws of 2nd kyo | 5 holds & escapes
Nikyu — Gokyo no Waza: 1st & 2nd kyo complete | 5 pins & escapes | 5 basic chokes | general vocabulary & history
Ikkyu — Gokyo no Waza: 3rd kyo complete | 5 arm bars
Shodan — Gokyo no Waza: 1st, 2nd, 3rd kyo | 5 chokes | 5 arm bars | Nage no Kata: 1st, 2nd & 3rd sections
Nidan — Gokyo no Waza: 1st, 2nd, 3rd & 4th kyo | Nage no Kata: 1st, 2nd, 3rd & 4th | Katame no Kata: 1st section | Refined knowledge of Ne Waza | Basic teaching skills
Sandan — Gokyo no Waza complete | Nage no Kata complete | Katame no Kata: 1st & 2nd sections | Advanced knowledge of Ne Waza | Advanced teaching skills
Yondan — Katame no Kata complete | Advanced knowledge of Ne Waza | Advanced teaching skills
Godan — Knowledge of Ju no Kata | Professional ability in the areas of technique & instruction | Contribution to Judo through teaching, organization or competition
Rokudan — Full professor, extraordinary teaching and leadership skill